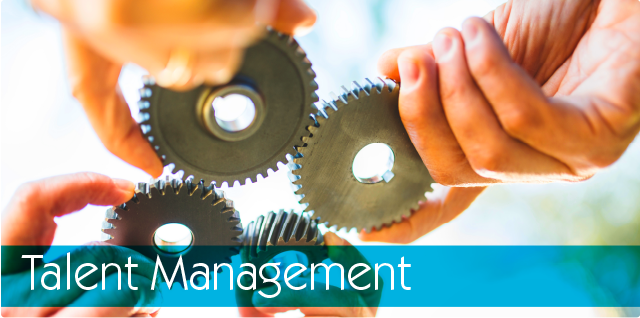 Talent Management Matters
It's always a victory when you bring good people into your company. But effective recruiting is only the first step. We're here to help you create an engaged, successful workforce that will increase your company's value for years to come.
At the start, we'll put together a comprehensive analysis of your company's existing structure. From there, we can determine role definitions, find any gaps, and create a path for growth and development within the company infrastructure. We'll become your talent management experts, helping you secure the future of your company.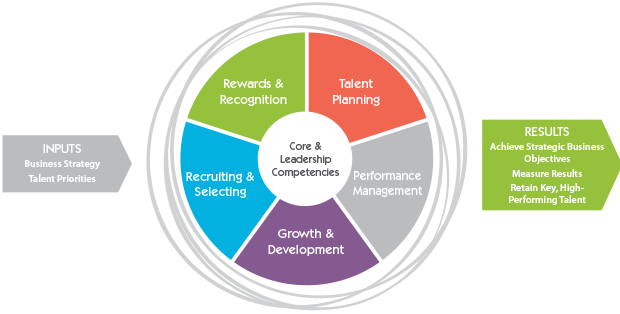 How do we do that? We do it together by:
Performance Management and Expectations – Determine the core competencies you want across your organization and specific departments, develop and execute metrics for assessing employees' competencies and behaviors, and provide carefully developed performance management programs to evaluate those behaviors.
Talent Planning – Determine the competencies and behaviors you want within your current and future leaders, select the people you want to fill future leadership openings, and begin the long-term process of preparing them for future positions.
Growth and Development – Create growth opportunities, management strategies, and rewards programs that foster a healthy, productive workforce.
Everything we do is tied to your company's overall human resources strategy.
Talent Management Matters
Only 13% of employees around the world are actively engaged at work. More than 26% are so disengaged they are likely to spread negativity to others.

86% of business and HR leaders believe they do not have an adequate leadership pipeline.

Source: Gallup research, 2014

Role Definition and Competency Development
Role Definition and Competency Development
Clearly defined roles and competencies are a critical part of your company's — and your employees' — success. A good competency model acts as a blueprint that spells out the skills and behaviors your employees need to get their jobs done efficiently and effectively. And effective, efficient employees are key to your organization's long-term growth.
Voyig can help you develop clear definitions for each and every one of your roles, job levels and behavioral and leadership competencies. These will be uniquely tailored for your company,  and based on a thorough analysis of your organization and your business strategy.
Defining Your Expectations: Why Role Definition Is Worth the Effort
At Voyig, we have helped numerous clients create well-crafted roles, job levels and competencies, and we've seen these efforts pay off for them time after time. How can a solid competency model benefit your company?
You'll be better equipped to recruit and retain the best employees.

Your employees will clearly understand not only what is expected of them, but how they are expected to perform their jobs

You'll be able to not only measure skills, but also necessary behaviors needed to be successful

You'll have the ability to objectively tie both skills and behaviors to job levels and promotions

You'll find where your employees need improvement so you can help them improve their performance.

You'll be better positioned to propel your organization toward its goals.
Put Voyig's Expertise to Work
At Voyig, we carefully align your company's HR strategies with your overarching goals, as well as your clients' needs. We also help you map out your organization's roles, job levels and competencies. The result is a detailed, relevant guide for getting the best possible performances from your people.
Voyig's Approach:
We have experience working with major corporations and small, private operations — in industries across the board. We've seen what works, and what doesn't, and bring this insight to bear for you.

We identify competencies not only for your company leaders, but for all of your departments, from your admin team to your IT staff. This allows you take a holistic approach to future development.

We tie competencies to career progression through behavioral and leadership proficiency levels.

We include specific behavioral indicators that can be reliably observed and evaluated.

We show you how to re-shape your human resources practices — from writing job descriptions to planning successions — to build a staff with the core competencies we've identified together.

Strategy & Design
Role Definition and Competency Development
Voyig has helped numerous organizations — of all sizes, and in a wide range of industries — to design and implement integrated talent management strategies. A successful talent management strategy ties into the organization's strategic plan and goals. When you work with Voyig, you get more than simple HR services. Our experienced team members spend time learning about your company's unique culture, positions, business goals, and needs. An effective talent management program is aligned with the company strategy, defines consistent evaluation criteria, and identifies both behavioral and functional competencies to cultivate continued growth.
Voyig's integrated approach to human capital management means we can see the whole picture, and look beyond the talent management services to consider the impact of recruitment and training on your talent management strategy, and vice versa. 
Voyig helps you:
Become proactive instead of  reactive in your approach to hiring, developing, and retaining talent

Build a customized talent pipeline to fill your company's current and future hiring needs.

Identify the employee skills and behaviors necessary to help your company grow

Establish meaningful metrics and benchmarks for employee assessment

Build your team's professional skills and competencies

Create a leadership development program

Align goals with corporate strategy
We carefully design each piece of the employee recruiting and retention puzzle. And when we put them together, you get the people you need — with the abilities you need — to ensure growth and success for years to come.

Succession Planning
We've found that companies tend to select people for leadership roles on a subjective basis: They pick people that they like, usually because they've done well in their current role. But successful accountants don't necessarily make the best CFOs. And skilled sales representatives aren't always the best picks for managers.
When you work with Voyig, you get a succession-planning partner that can help you objectively consider your choices — and ensure that you hire the right candidate for the right job. We provide an unbiased perspective to help you think outside the box, consider candidates you may have otherwise missed, and objectively evaluate each candidate based on a variety of factors.
Our experienced consultants have helped companies across multiple industries successfully match candidates to future leadership positions. It is important to not only assess employees' current and past performance but also their capability and potential to move into different roles. Our thorough, data-driven approach considers both employee reviews and online assessments so you can gauge your people's potential for future success.
Once the choice is made, Voyig also offers talent development services to start the best candidates on the right path for succession. Even born leaders always have room for improvement through tailored training and ongoing education.

Workforce Management
Where do you see yourself in the next five years?
You probably ask potential employees this during the interview process — but have you ever asked yourself the same question about your company? Do you have a five-year talent management plan? And are you confident that you'll have the talent you'll need,  when you need it , to make that plan happen?
With Voyig's workforce management solutions, you have a partner to help you develop an effective, practical strategy for recognizing and addressing your long-term talent needs. You get more than an outline or to-do list to guide you. You get a custom workforce planning strategy and implementation plan tailored to your company's workforce needs. This plan will:
Match your long-term goals to your current talent and future needs. If you want your company to grow, it's important to understand what kinds of skilled workers, professionals, and leaders you'll need to handle the increased workload. By carefully studying your staff, your company, and your company's goals, Voyig will help you create a long-term strategy to ensure steady growth.
Identify – and close – current hiring gaps. In addition to helping you plan for future changes, Voyig can work with your HR team to identify and address any current or quickly approaching hiring needs. Because of our integrated approach to talent recruitment and management, this process is seamless.
Predict changing market conditions. From a current aging workforce to the growing use of new technologies, Voyig helps you anticipate industry trends and adjust your workforce planning accordingly.
The Voyig Approach
Voyig works alongside you, as a partner, to help you conduct the critical process of identifying your company's talent needs and developing a management system for addressing them. We always take your goals, your company culture, and your priorities into account, and we make it a priority to recommend proven, realistic strategies.
At Voyig:
We keep things simple. We know how to take complex problems, break them into manageable pieces, and come up with practical solutions you can implement.
We give you realistic solutions. When you work with Voyig, you get more than a list of one-size-fits-all recommendations. You get real, practical solutions that you can use right away to jumpstart your hiring and accurately predict your workforce needs.
We work together. No matter how well we get to know your company, we know we'll have better results if you contribute your knowledge and insights to the planning process.
We have experience. Our past projects span industries from oil and gas to technology, and company sizes that range from mid-sized organizations to multi-national corporations. We've seen what works, and what doesn't.